PSA Testing Sessions - dates for your diary......
Saturday 15th June 2019 10.30 to 1.00
Bouverie Hall, Pewsey
Saturday 13th July 2019 - 10:30 to 1:00
The Royal British Legion Club, 9-11 Endless Street, Salisbury
(in conjunction with Salisbury Lions)
Saturday 3rd August 2019 - 10:30 to 1:00
The Masonic Hall, Stanier Road, Calne, SN11 9PX
Saturday 28th September 2019 - 10.30 to 1.00
The Conservative Club (by kind permission) 30 Long St, Devizes SN10 1NW
Saturday 19th October 2019 - 10.30 to 1.00
Swindon Masonic Centre, The Planks, Swindon
Saturday 9th November 2019 - 10:30 to 1.00
Freemasons' Hall, Crane Street, Salisbury
Chris Blake's moving story......
Chippenham resident Chris Blake and his wife are regular listeners to BBC Radio Wiltshire and in particular the Breakfast show; after all, what better way to start your morning than with a cup of tea and Ben Prater's Breakfast show...
In 2016 Ben ran a special story featuring the formation of The Loganberry Trust and telling viewers of a PSA testing session being held at the Masonic Hall in Chippenham. Chris and his wife 'heard the plug' and decided to take the plunge and visit the Open Day.
Chris's blood test was sent to the laboratory where it was analysed and the results reviewed by a Consultant Urologist. The PSA figure was unusually high and on receipt of letter from the Urologist, Chris mad an appointment to see his GP.
After undergoing various tests and examinations since, Chris's prostate was found to be eight times larger than it should be. This week he has had a meeting with his consultant, and was told that his prostate is not cancerous, but is now on medication to reduce it in size.
However, through all of the tests he has undergone, he has been told that he has signs of leukaemia.  He has had a lymph node biopsy, as his lymph nodes were also found to be greatly enlarged. This biopsy shows that he has either Lymphoma, or a form of leukaemia called Chronic Lyphocytic Leukaemia, which is linked to the white blood cells. He has further blood tests to undergo, but it is thought that the Chronic Lyphocytic Leukaemia can be treated with tablets.
The upshot of all of this is, that Chris openly says that "Without a shadow of doubt I would never have know about my medical situation had I not gone for that initial PSA blood test with the Loganberry Trust and who knows what would have happened to me?"
Chris is quite clear about the relevance of The Loganberry Trust and PSA testing, which whilst imprecise is still the standard treatment by which men over 50 years of age can be tested for levels of PSA. Chris urges all men certainly over the age of fifty to have the test - you never know what it might uncover!
And by the way he passes on his sincere thanks to all involved with The Loganberry Trust, and the great work they are doing.
Swindon Moose Lodge 32 donate £500......
When Trustee Des Morgan was invited to the April, meeting to speak to the members of Swindon 32 about the formation and work of the Loganberry Trust, little did he know the Lodge was intending to 'spring their own surprise'.
Following his talk and before a very spirited Q&A session, Governor Roy Small invited the Lodge Treasurer to step forward and present Des with a 'token of their thanks' a bumper cheque for £500
Prostate Cancer to receive £75 million funding
Prime Minister Theresa May has announced a £75million five year campaign to beat prostate cancer. In a major initiative designed to save thousands of lives, she has promised spending of £15m per year for the next five years to help identify the disease and improve treatment regimes.
The yearly research spending will increase to £40m per year which is almost equal to the amount spent on breast cancer research.
In her key speech, Mrs May also announced that 40,000 men wil, be recruited to to take part in one of several trials to try to find a breakthrough.
Popular Classic FM presenter has Prostate Cancer
Former BBC Breakfast host Bill Turnbull has revealed he has prostate cancer – and feels 'stupid' for not seeing a GP for four years.
The 62-year-old was diagnosed months ago after aches and pains that he put down to 'old age' were no longer being alleviated with pills.
Specialists have since found the cancer has spread to the bone, although he has been given between ten and 18 years to live. The father of three, now a Classic FM presenter, spoke out to encourage others to get tested for prostate cancer, saying that if he'd sought help earlier 'I'd be in a much better state'.
Bill Turnbull: I'm quitting BBC Breakfast to spend more time with my bees He said: 'The worst thing is, you carry it through the day and then you go to bed at night and wake up in the morning and it comes to you again. I have got cancer. I've still got cancer. It wasn't a bad dream. And that takes a lot of dealing with.'
Turnbull has had kidney surgery, hormone injections and 'knackering' chemotherapy over the last few months and said the days after his diagnosis were 'a dark chasm'.
Nevertheless, he is determined to stay upbeat, telling Radio Times: 'You have to be positive, don't you?
'I know I'm not going to get cured and I'm realistic about the long-term prospects, but they're not bad.
'Most importantly, I really do think I've had a wonderful life, with amazing experiences as a reporter and a presenter.
'And if it was all to end tomorrow, I couldn't have any complaints. I've had a really marvellous time. You have BC, Before Cancer, when you had a normal life, and then there's After Cancer, when things are very different.' The presenter is also determined to continue working and said he will not draw up a bucket list, insisting his 'life is very liveable'.
© PA Wire
Chippenham Freemasons give £100......
When Trustee Des Morgan opened his post he was delighted to find a note from Owen Flint the Almoner for Lansdowne Lodge of Unity No.626 which meets in Chippenham.
The note was accompanied by a cheque for £100 to be sued for the work undertaken by The Loganberry Trust - a big thank you to Owen and the members of the Lodge.
NHS launches 'One Stop service......
A recently launched quick access programme promises to reduce the time taken for a diagnosis form around six weeks to just a few days is reported on by Daily Mail Medical Correspondent Ben Spencer.
Under the proposals, patients will have all their tests in one day rather than several, with doctors using the latest generation of MRI scanners and clinical techniques to search for the disease with greater accuracy than before.
Clinicians hope to test and treat 5,000 men over the next tewo years in a £1.6million trial.
Prostate Charities are hailing this as the biggest leap forward in prostate cancer diagnosis for decades.
The PSA blood test (championed by The Loganberry Trust) remains the first point of reference and an adverse result will be used by doctors to determine the next course of action which may well be a referral to hospital for an MRI scan. The 'quick access programme' is intended to ensure a patient is seen within a week.
Trials suggest that four in ten men get the all clear and are discharged within hours of being assessed. The remaining patients have a precision biopsy using 'Fusion Technolgy which overlays the MRI scan against live ultrasound images. Samples are taken and patients are sent home the same day.
Results are usually delivered within a week and patients who require treatment receive it within two to three weeks.
Accredited to Ben Spencer Medical Correspondent Daily Mail .
Making lapel pins for Loganberry......
Raising funds from the sale of lapel pins is very important to The Loganberry Trust and it's thanks to Ian and Elaine Lever that a constant source of supply is available. The pin inserts are all 'hand prepared' and fixed to a ready made holder. A keen eye and steady hand is essential.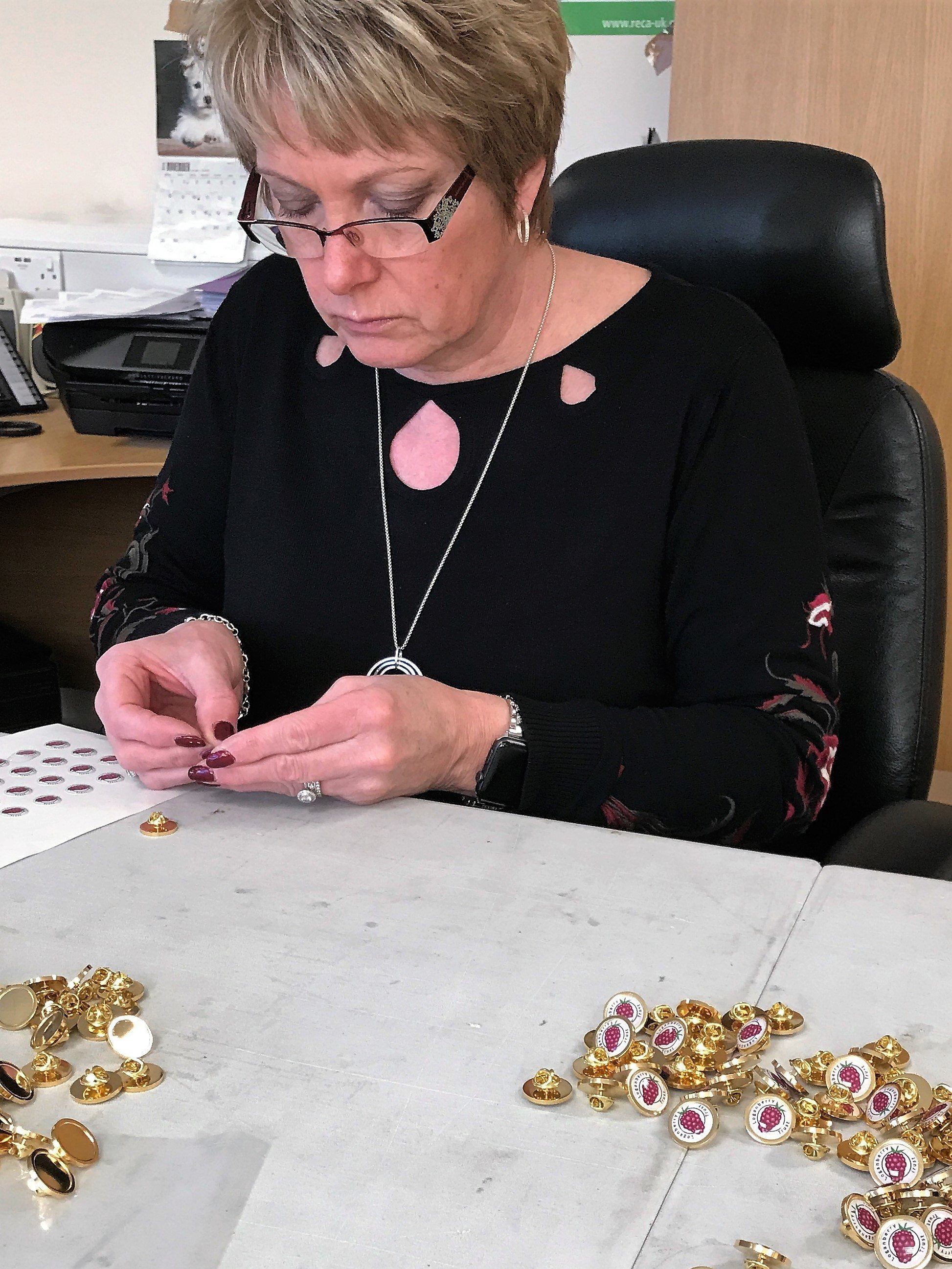 Genius Professional Services donate £650....
Genius Professional Services delivers an outsourced back-office and financial managed service, specialising
in providing services to the recruitment industry. The company worked closely with GCS and Kevin and for the past twelve months have been collecting money to support The Loganberry Trust.
Par for the course with North Wilts GC
When North Wilts Golf Club captain Alan Blake was asked to nominate the two charities he wanted to support during his year in office he chose Wiltshire Air Ambulance and The Loganberry Trust. 
A special charity golf day which was supported by many of Kevin's friends raised over £3,000 which was shared equally between the two charities.
Royal Sussex Lodge No.355 Freemasons present a bumper cheque.....
Freemasons from Royal Sussex lodge of Emulation are celebrating their bi-centenary this year and have chosen The Loganberry Trust as one of their charities for the year. At a recent meeting they presented trustees Philip Bullock and David Reed with a cheque for £2,500. A wonderful gesture which will help us to continue PSA testing in Swindon.
A military salute to the work of the Trust...
WO2 Alex Laird is a keen supporter of The Loganberry Trust and will soon be undertaking a static cycle ride to raise funds for the Trust's work in Warminster and Westbury.
The Warrant Officers and Sergeant's Mess in Warminster recently raised £188 for The Loganberry Trust which was received by Trustee Des Morgan.
Clarendon Lodge No.5908 members give freely....
Kevin was a regular visitor to the Masonic Hall in Trowbridge and it came as no surprise when the Brethren of the Lodge raised the wondeful sum of £95 for The Loganberry Trust. 
The New Temple Lodge No.8435 donate £165......
Members of The New Temple Lodge No.8435 donated the wonderful sum of £165 towards PSA testing at The Planks in Swindon.
165 attend latest Swindon testing session.....
The last testing session held at The Planks, Swindon saw over 165 men attend for testing. We were also pleased to support the work of Bro Paul Sharp a member of Lodge of Remembrance No.4037 who conducted blood pressure testing as part of a national programme involving The British Heart Foundation.
GCS team get shirty!
GCS offices encouraged all of its employees to wear a rugby shirt or a sports shirt in a very special dress down day.
A collection raised just over £300 which was match funded pound for pound by GCS resulting in over £600 for The Loganberry Trust.
GCS managing director Chris Bartlett said "We will continue to dedicate dress down days to the memory of Kevin and the work undertaken by The Loganberry Trust"
Freemasons generosity
We were delighted to to be invited by Ian Priest the Charity Steward for Wiltshire Feemasons to attend their annual charity presentation evening.
The Freemasons have given over £5,000 to The Loganberry Trust a simply magnificent amount for which we are very grateful.
We would also like to thank them for allowing us to use the Masonic Halls in Wiltshire to host our PSA drop in sessions.